How much is a consistent stream of easy sales worth to your business?
Easy sales which don't need hard work to close?
Sales to a prospect who needs your product or service right now?
Sales with almost no marketing effort or cost?
I have worked with thousands of business owners since 1984.
Some were successful. They all used this same marketing approach.
Most were struggling. None of these bought into this simple approach.
If you want to succeed your business needs prospects who want to buy what you sell. You must convert those prospects into paying clients to prosper.
But not all prospects are the same. Most start out as strangers.
They don't know you yet.
They don't know what you sell yet.
They don't know if it solves their problem yet.
They don't trust you yet.
These strangers find our business via our website, or Google Adwords, or radio adverts, or magazine ads, or Facebook, or ...
Each of these approaches cost a chunk of cash. Yet we're never certain how well they work. Each environment keeps changing. Each needs expensive specialists.
That means finding each prospect is expensive. Each is a tough sale. Most do not buy. That makes your cost of sale much higher than you want. And the sales are uncertain.
This is the approach most struggling businesses follow.
The successful firms do one thing different.
Successful entrepreneurs stay in touch with their prospects.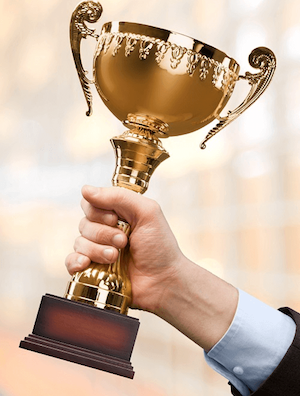 Each new prospect they convert into a client remains a prospect for another sale.
And each new prospect they do not convert also remains a prospect for another sale.
The longer the business keeps in touch with this group of prospects the easier it is to make that next sale. A prospect is not disposable after use.
This is even more true if you sell a complex or expensive product (or service). Staying in touch lets share stories about the problems they face. You write about the problems in exquisite detail. You write more about the problems than the answers your firm sells.
The more such stories you share, the more the recipient trusts in your expertise. And the more likely a recipient is to buy from you next time.
I am not talking about email *newsletters*. How much do you care about "news" from some random supplier? But imagine reading about a problem you face. (You're reading that email because you are part of a group of strangers who share that same problem.)
And that is what email marketing is. Not the rubbish you get each day from folk who think ABC. (You know, Always Be Closing.)
Email marketing complex if you are a pure online play, selling one product at a low margin. But if you're an offline business then email marketing is simple beyond belief.
I must confess that I cut my marketing teeth on regular letters, long before email. Email marketing is direct marketing using email instead of letters. I see the issue with the same clarity.
Email marketing looks complex because you face three hurdles:
Extracting that first list of email addresses. (Or harvesting them or buying them.) Where to start?
Drafting that first email. The subject, the content, the style, ...
Delivering that first effort. Which of the more than 100 superb email delivery engines to choose.)
Each of the above is a bigger hurdle than it seems at first. Each demands answers to lots of questions.
That's why most of us never get started.
This course strips out those hurdles. Your first marketing emails can be in front of keen prospects within the next 5 days-
Take this course to learn the same email marketing skills I have used to live in four countries since 2005. Or your money back.