Albert Einstein said, "The hardest thing to understand in the world is income tax."
If he struggled, what hope for the rest of us?
Tax inspires despair at what seem impossible odds stacked against us.
But it is much more than the cost of income tax each year. It's losing huge tax gains when we sell our business. Or as we buy a business. Or when we retire.
This is why corporates retain fleets of lawyers before any big change to help them slash tax costs.
For instance, SARS offers an option to save up to R810,000 tax when you sell your business. If you get the timing and ownership right.
But SARS will not remind you the option exists. You must know about it to claim this saving. Which is tough if you don't know about it in the first place.
One of my readers heard about this
by accident
. He had just sold his firm. An accountant said it in passing.
Saving tax is too important to leave to others. At very least we should know enough to be able to ask the right questions.
Tax law comprises 600 pages of words and definitions and exceptions. Worse, it changes each year.
You don't need to know it all. Just 6 pages of simple English will give a small business owner enough to know:
What trading structure you should aim for. (There are 6 with widely different tax rates.)
What tax structure you should use for the coming year. (There are 4 with rates from 0% to 45%)
What holding structure gives you the best lifetime tax savings.
When you should sell a business to get the best tax savings.
How you can structure a business sale to get the best tax savings.
How to leverage your own business to give you a better retirement than 99% of us. (You don't need to spend a cent extra to end your career with millions more invested.)
Peter O'Halloran is the brains behind our course to answer these questions. He brings two decades of tax experience to back you up. His focus is to help small-business owners resolve SARS queries.
You will get a 6-page summary written in simple English like Dr Seuss used in [The Cat in the Hat][seuss]. (The Income Tax Act otherwise needs a University degree to read. Even then it's like chewing pebbles.)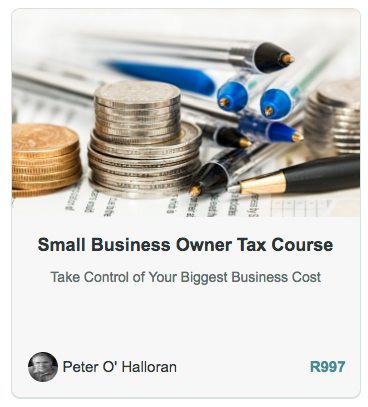 You get lifetime access to the full course.
You get the updates as we add them each year.
You get 30 days to decide how well this works for you.
Your investment is just R997 if you invest before midnight March 31.
[Mark Corke][corke] says: "The R997 I paid for the course took about 17 minutes to reach payback."
You have two ways to win and no way to lose. Invest now to avoid the April 1 price increase. Use your new knowledge to change your future. If you feel this is not as good as I promise I will give you every cent back.
[Click here to start winning this tax game.][tax]