Since 1984 I have written more letters and emails than most people do in a lifetime. Over 35 years, about 5000 each week. (35 x 52 x 5000 = 6,500,000 since I started.) You'd think I might be able to write well.
Very few people replied to admire my skill at wielding words. Many wrote back to point out my grievous grammar and spelling errors. One fellow was deeply disturbed by my appalling apostrophe abuse. He wrote to me at least once each year.
No matter how often I proofread my own work, I find I see what I think I wrote, not what my Mac thinks I wrote.
I began to receive compliments earlier this year. More congratulations this year than the previous 35 years put together.
I did not suddenly write better. In November last year I invoked some help to write better. The results came faster than I imagined.
I hired some artificial intelligence. I chose Grammarly. I tried finding a freelancer a few years ago. Too slow, too erratic, too much admin, and much more expensive than Grammarly. (Grammarly has a free option. That's an alluring offer.)
Back when I was younger, my accent got in the way of communicating. In South Africa, at least. I was once kicked out of the Citrus Board in Pretoria because I sounded like an immigrant from Brighton. (I was born in Cape Town, and had never left SA before this incident happened.)
A South African salesman once told me how his SA accent was his crucial advantage in England. He did not sound Welsh, Scottish, Southern, Northern, or any other local accent. So, no prejudice. He earned much higher commissions than his peers.
Writing is the same. A spelling or grammar error upsets some folk enough to stop reading about your cure for their biggest problem. Lord forbid two errors. And if they're in the same sentence, well that's an instant unsubscribe.
I should know. I was a black belt in misrepresenting apostrophes.
In a world where we connect with prospects using the written word, no amount of gorgeous graphics makes up for one spelling misteak. (OK, I left that in on purpose to show how it sticks out.)
I now get help. As soon as I have written or dictated an email, I drop it into my Grammarly editor. A few seconds later, I start to work through a long list of errors...
mixed tenses,
spelling errors,
misplaced apostrophes,
monotonous sentences,
missing commas,
and a lot more.
Grammarly points out each problem and suggests a one-click fix.
Then I get a bunch of suggestions for improving my writing, like offering a stronger word than I had chosen.
As I read my semi-final version, I can double-click on any word to bring up a list of much better, much stronger words.
But here's the kicker. As my writing has developed, so has my income. Turnover is up 100% on last year. Grammarly had a lot to do with that.
Take Grammarly for a free trial here.
Warm regards
Peter (aka Hemingway the Viking)
---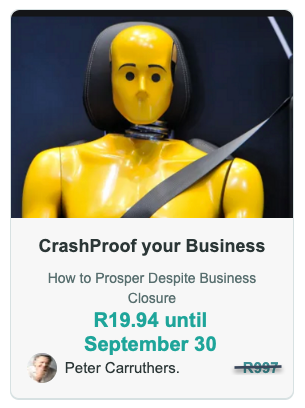 How to Prosper Despite Business Closure
Normally these strategies would cost R997. And that's cheap when you think how much it costs to lose your home, your life savings, and even your marriage when your business closes. More than 90% close within the first 10 years.
More than 30,000 small-business owners already use these action plans to protect themselves and their families.
Click here to save R977.06 now and get instant, lifetime access to fast-actionable strategies to save your home, your life savings, and your sanity. But you must do this before before midnight September 30th.